In 1966 our father won a Fulbright scholarship to teach at an American high school for a year, in the small town of LaGrange, Illinois – epicenter of the American heartland. All four of us boarded the Cunard ocean liner, the RMS "Sylvania", for a week-long passage from Southampton to New York City. On a perfect summer's day we sailed into New York Harbor, under the Verranzano Narrows Bridge, past the Statue of Liberty, and docked at the Hudson River Terminal in Manhattan's Lower West Side, the Empire State Building looming overhead: unforgettable!
All the exchange teachers stayed in a group, chaperoned by the Fulbright people. In three days we did all the sights of New York City then went by Greyhound bus to Washington DC. We stayed at the Hotel Washington, overlooking the Rose Garden. The hotel is still there, unchanged. Three days later we were actually in the Rose Garden, where President Lyndon Baines Johnson gave a speech to all the English exchange teachers. As he moved down the line he squeezed my hand in his giant maw and said:
"Welcome to America, suhhn."
I always did like LBJ; he passed an incredible amount of forward-looking domestic legislation, including Civil Rights and Medicare/Medicaid. What broke him - and his reputation - was Vietnam.
I caused a huge kerfuffle on my first day in Cossitt Avenue Elementary School. We all had to stand up and tell the class what we had done over the summer. I said that I had come by ship from England to New York; then went to Washington where I shook hands with President Johnson in the back yard of the White House, then took a bus here to La Grange, then …
She stopped me right there. For the new kid in the class, this was quite some opening gambit: you shook hands with … the POTUS??
It was only after she quizzed me on every aspect of my story that she finally believed me; then proceeded to go completely doolally. She made me come to the front of the class and hold up my right hand.
"Class, this hand, this very hand, right here – hold it up higher – has actually shaken the hand of the President … of the United States … of America!!!" Like my hand glowed or something.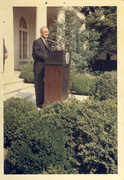 Last edited by New Historian (Jun 04, 2018 11:46 am)