The Barbados Wildlife Reserve is a favourite stop along the tourist circuit, owned by a Canadian primatologist called Jean Baulu. To call it "wildlife" was a bit optimistic, children and their bored parents are led on a stroll overlooking a bunch of timid turtles and mild mannered monkeys. But all those cute little monkeys were being held in captivity for another, more sinister reason: vivisection.
The only natural wildlife in Barbados is monkeys, and there are a lot of them. For farmers they are a pest, picture monkeys in a banana plantation. The farmer's normal answer to the monkey problem was to poison them, so the Wildlife Reserve offered to remove the monkeys in a more humane way. They would set traps, and bring the captive animals to the Wildlife Reserve, where they were held in large enclosures, to get them acclimatized to human beings. This is when the kiddies go ooh and aah.
But what the tourists don't know was that after the monkeys had become sufficiently acclimatized, they are crated up and shipped off to vivisection laboratories abroad, where their body parts used to produce human vaccines – and who knows what else. That's where the Reserve makes most of its money.
https://groups.google.com/forum/#!topic … vcR6XQsroY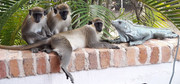 Last edited by New Historian (Jun 28, 2018 11:02 am)