Vilanculo on the East African coast is famous for its dhows. These fantastic old wooden boats are thousands of years old (some of them literally!) and came originally from the Arabs. They boats are amazing, the sail is usually a patchwork quilt of whatever materials come to hand: canvas, crocus bags, plastic sheeting, denim jeans. The bigger dhows have a proper hull made of planking but the smaller ones are dugout canoes. These things are virtually prehistoric. With all the deforestation going on they must be having a hard time finding decent-sized trees. Their only concession to modernity is that some of them have a bracket on the back for the outboard.
And do these guys ever know how to sail!  Jules and I spent a fair bit of time watching them tack up and down the coast, and were impressed by their skills with the boat and knowledge of the waters. Which you'd expect, of course. The dhows are used as fishing boats, barges, buses, taxis and, in the modern era, tourist traps. 
The other thing Vilanculo is famous for is its offshore islands: Bazaruto, Margararuto and Benguera. So of course, the thing to do is sail out there on a dhow. I had met a guy in a bar (as you do) who said he could sort us out a dhow at a good price. Now this guy, Arnaldo, and this bar, Kiosque Tropicana, were central features of the whole holiday.  Arnaldo was a refugee Portugese seeking escape and fortune in the wild frontier of Mozambique; and Tropicana was a typical frontier beach bar. They served the biggest beers I have ever seen, called 2-M (or doish-emsh), and it was fun to watch the reaction of the foreign female guests to the rats crawling up and down the rafters. But it was ok, they were sure-footed rats. 
After the first day  me, the girls and Arnaldo become fast friends, and he says don't worry, he and his business partner Junior can take all of us over to Margaruto, including snorkling, for 50,000 Meticais each (about 4 bucks).  I found out the going price was 100,000 Mets so I thought, cool. 
But when we saw the boat, it was a tiny little thing! More of a dhow-ette than a dhow.  It was painted pink with an eye at the bow, but it certainly inspire feelings of seaworthiness. And it was a bit of a breezy day, and we had the Parsons' two girls with us, and nobody except the boys felt like getting aboard that thing, so that was the end of that day's dhow-ride. What the hell, we'll chill right here on the beach, which we did!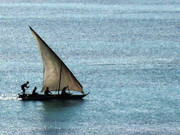 Last edited by New Historian (Jul 30, 2018 6:33 pm)