The Beatles were the most talented musical phenomenon of the modern age.  They were musical geniuses who recreated themselves over and over faster than they could be emulated.  Their music is timeless, technically perfect and just damned awesome.   Seriously, musical taste is subjective but to rate the Beatles as simple girl magnets or in the same universe as the Bay City Rollers is madness!!!  I like all kinds of music of all genres but the Beatles are in a class all their own.
Classic RD, he'll slaughter you with superlatives!
You two and your endless musical masturbations actually got me thinking: Which one DO I like best? Let's start with the evidence: I have 6 Beatles records (left), and 10 Stones. So on record count Stones win. But what records? The Beatles made some amazing, literally world-changing music, much more influential than the Stones, who always chafed at the bit at being "the other British band". Sgt. Peppers and the White Album changed music forever and and had a huge impact on a generation of kids - myself included.
Love 'em both, but overall I'll give it to the Scousers.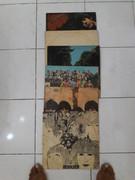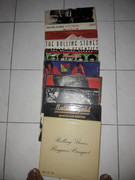 Last edited by New Historian (Sep 07, 2018 11:29 pm)