'I wouldn't try to build this house in Grenada but it is the right house for Iowa.  Expat's belief that it is flimsy is preposterous.'
Yet again, your myopia obscures your reason. It's not preposterous to say that wooden houses are not as robust as brick - that is self evident to any RATIONAL person; of COURSE wood is "flimsier" than bricks and mortar! I've owned and lived in houses all over the world - all kinds of houses, and without doubt my "Micky Mouse house" was the flimsiest of the lot - and the most expensive to boot! When Gilbert devastated Jamaica in '88, my mother-in-law's brick house built in 1947 suffered only superficial damage, and 90% of the BRICK houses that suffered major damages lost their roof, but the basic structure of the house remained intact. Compare that to the wholesale destruction of wooden houses by Michael, and that was "only" a cat 4.
Now the question you could ask: Is flimsy bad? Do you NEED to build a house that'll last 1,000 years? In Iowa, clearly, you don't. Different cultures, different strokes, different houses.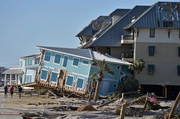 Last edited by New Historian (Oct 17, 2018 6:34 pm)