houston wrote:
Beautiful, nice spot.
Looks like you have a water way on the back of the land.
Yes, sort of.  It is a kettle bog.  It is the remains of an pond that has filled in over the last few thousand years.  It is wet but it is never flowing. 
The house site is high on something called a paha ridge.  It is a ridge that was built up during the last ice age when central Iowa was under a mile of ice.  My part of Iowa was a dry tundra and huge drifts of soil and sand called loess were piled up by the 70 mph gravity driven winds coming off the ice.  This bog is high on a ridge.  It was probably caused by a huge chunk of permafrost left after the glaciers retreated and kept soft as a wallow for bison herds.
In any case, I can see for miles in three directions from the house.
Here is what it looks like from the frozen bog last month before snow fell.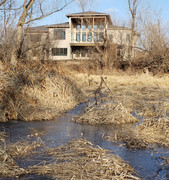 Last edited by Real Distwalker (Feb 02, 2019 7:35 pm)