Our father loved fast, stylish cars and between Grenada, Guyana and Trinidad from 1950 to 1960 he owned a total of six vehicles. His favourite was the iconic British car company MG, of which he owned three:
1.    MG Y Saloon: This had the unique feature of four built-in hydraulic jacks at each corner, so you could jack up the entire car and remove all the wheels simultaneously. It had "suicide" front doors that opened from back to front, but it was the back door that nearly killed my big brother. Aged three, he was in the back seat fiddling around with the door handle, when it suddenly flew open – while Dad was driving at 30mph! Gerry was hanging on for dear life with his shoes scuffing along the road, as Dad frantically braked to a stop. Did our father hug up his son, for surviving that dangerous incident? Did he hell: whack-whack-whack, don't do that again! Somehow Dad ended up driving this particular car into the sea at the Carenage, , and that was the end of that!
2.    Morris Oxford MO: A big black beast with rounded fenders, with lots of chrome and a column gear shift.
3.    Vauxhaul Wyvern: A four-door saloon that came out in 1948, it had a badge with a Griffin on the front grille.
4.    MG Magnette ZA: Back to MG's, the first of two models he owned in Trinidad, the ZA had a flat rear window
5.    MG Magnette ZB: The ZB had the feature of a curved rear glass, which was quite tricky to manufacture back then. It had a "massive" 64 horsepower engine and came out in 1956. His was the Varitone model with a larger rear window and two-tone paint job.
6.    Standard Ten: A frugal little car from the short-lived Standard Motor Company, the "Ten" was in reference to its diminutive horsepower. This car was a huge comedown for us kids, after the luxury of the MG Magnettes he'd owned previously, so we christened it the "Standard Penny" – we had high standards!
Then we moved to England, and we didn't have cars of any description for the next four years.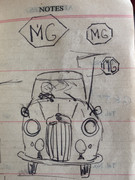 Last edited by New Historian (Mar 19, 2019 3:18 pm)