Just popped out between showers and caught a quicky of Saturn near the middle, and Antares diagonally right.... slightly orange looking   the fuzzy stuff is the milky way.
I guess I could get it crisper, but this was a first attempt. I suspect the heat haze will degrade the image too.... I seem to remember seeing stars more clearly by eye in Northern Hemisphere...?
Also its a low res photo.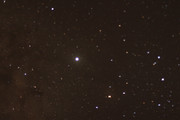 Sill kind of amazing to think many of those spots of light are not stars, but galaxies.
Last edited by Expat (Aug 01, 2019 9:34 pm)