Murder, Murder....Blood runs in Plains (An unsolved case)
On November 17th 1980, four young men with a bright future ahead of them, were denied that right, when they were ambushed in Plains St.Patrick.
The government at the time placed the blame on terrorist, however few bought that narrative. On that night many witnesses noticed two PRA vehicles in the area speeding through.
According to a report by journalist Alister Hughes. Gun fire lasted between two to three minutes. Those who know about fire arms would know that's like an eternity and they would have had to have access to lots of ammunition, which the so called terrorist would not have had access to.
Some people over the years including ex-PRA have said it was done by the PRA, who were hunting a counter revolutionary named 'Duck,' and had mistakenly fired on the wrong car.
Later anyone they thought would have been able to point blame at the government was picked up and jailed without due process.
Dr.Japal, was the doctor who did the autopsy that revealed that young Mr.Stephen was shot 19 times. Dr.Japal was beaten, tortured and jailed later, and on his release was never the same man.
A witness who overheard the incident, later revealed the conversation amongst the murders. They said that the shooters realizing that they had made a mistake when Stephen screamed out after the first round of fire.
"It's me Stephen, Mr.Lalsee son, don't shoot.
The soldiers were heard talking among themselves and then one shouted out.
"They saw our faces, dead men tell no tales."
They would open fire again on the occupants of the car. The bodies were riddled with bullets and it became a matter of over kill.
Mr.Stephen Lalsee at his 20th birthday celebration earlier that year, had made an uncanny but accurate prediction.
"I have a strong feeling this year, that it will be either three things that will happen for me. Either I travel abroad , get married or be killed. If it's the latter, I will die with bullets in my chest and not in my back, for I will not run, I will die with my cadet boots on my feet."
On the night he was killed, he was wearing his cadet boots.
His family had reported that he had been threatened and harassed by PRA members all the time. The area they were from, was branded by the government, as an area for counter revolutionaries. However these young men were never part of that and had even refused to join the militia.
To this day, no one has stepped forward and confessed to this horrible crime, and one can only imagine the pain and trauma the family of the deceased is still suffering from.
I spoke to one of Stephen relatives in the UK, she is still traumatized. Every time the anniversary comes around, it triggers the events of that ungodly night. She says the saddest thing is that Stephen's parents died of a broken heart.
There must be someone out there, who witnessed the events of that night. Please don't take it to your grave, confess and bring closure to that terrible night.
Clyde Viechweg (Fiction of a bloodless revolution)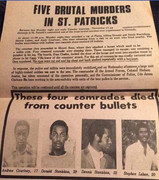 Last edited by New Historian (Nov 01, 2019 7:18 pm)