A US Rescue Mission for Bishop?
---------------------
Barbadian Prime Minister Tom Adams spoke to the specific plan to rescue one person, Prime Minister Maurice Bishop from house arrest, when discussing 15 October 1983:
A further day of confusion in Grenada followed [Saturday, 15 October] while some of us discussed the situation. I concluded that, whatever our differences in the past, Mr. Bishop deserved the support of Caribbean governments in the circumstances and sought opinion on whether he could be got out of the hands of his enemies and the situation given an opportunity to stabilise.
On this day also, Saturday, October 15, an official of the Ministry of Defence and Security [Barbados] reported to me that he had been tentatively approached by a United States official about the prospect of rescuing Maurice Bishop from his captors and had been made an offer of transport.
The US official was understood to be Oliver North.
'Any airlift part of a plan was understood to be provided by U.S. aircraft, planes or helicopters.'
Major Adkin gave a developed tentative plan back to Colonel Lewis. Colonel Lewis presented the tentative plan to Prime Minister of Barbados, Tom Adams.
The key targets of the tentative plan, according to Adkin, entailed troops arriving by helicopter under darkness operation at Prime Minister Bishop's home, the Governor Generals residence, Pearls and Point Salines airports, Radio Free Grenada and positions north and south of St. George's.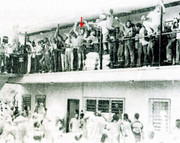 ----------------------
Source: Tom Adams, 28 OCT 1983, "Address" Barbados Advocate newspaper
Photo: Last known photo of Maurice Bishop, 19 OCT 1983
Last edited by Real Distwalker (Nov 21, 2019 10:13 am)