Although Grenada's Fort George was built by the French commencing in 1705, it is its more recent history that tells the most compelling story. It was at Fort George, at the time renamed Fort Rupert in honor of the then Prime Minister's father the late Rupert Bishop, that on 19th October, 1983, Grenada's four-year old People's Revolutionary Government (PRG) came to a dramatic – and bloody – end.
After seizing power in a bloodless coup or "Revo" in March 1979, the PRG government of the charismatic Maurice Bishop led Grenada along Marxist-Leninist lines. Although Prime Minister Bishop was immensely popular, both at home and abroad, within three years the PRG had split into two opposing factions: moderates led by Bishop; and a hardline leftist faction led by the People's Revolutionary Army (PRA).
Matters came to a head in October 1983. Upon returning from an overseas trip, Prime Minister Bishop was placed under house arrest on 12th October by the PRA. However, one week later Bishop was freed from house arrest by a spontaneous demonstration of support led by Grenada's schoolchildren. Matters quickly got out of hand, when Bishop and his followers swarmed into St George's and seized control of Fort Rupert, headquarters of the PRA. Tense moments followed as the leadership of the PRA, Finance Minister Bernard Coard and his Jamaican-born wife Phyllis, watched the unfolding events from the safety of Fort Frederick, overlooking the town of St. George's.
Although technology may have gone through several revolutions since then, one of the basic principles of war remains the same: control the high ground.  As Bishop and his supporters celebrated his freedom at Fort Rupert, three armored personnel carriers (APCs) were dispatched from Fort Frederick, overlooking the town. As usual in such a melee, no one can say who fired the first shot. However the three APCs unleashed a barrage of gunfire into the crowd; instantly killing many civilians. People sought to escape by jumping off the Fort's high escarpments and go tumbling to the ground.
Maurice Bishop, his partner Jacqueline Creft who was pregnant at the time, and other supporters were rounded up and kept at the Fort under guard. After a few hours; the orders arrived. Bishop and 7 others were placed against a wall in front of the basketball court, and shot down by firing squad. Exactly one week later, the USA invaded Grenada; to "free American students and restore democracy".
The bullet holes are still visible; the Fort is still used by the security forces, exactly as it was in 1983.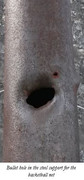 Last edited by New Historian (Dec 10, 2019 2:51 pm)