Two stories that I saw today provide vastly different lifestyles (and circumstances) at least in terms of the amenities available to the two individuals.
THE INDIVIDUALS:
The first individual is known as "Hushpuppi", last name Abbas. Here he is: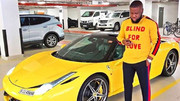 Regarding "Hushpuppi":
"His most recent Instagram post included a picture of a Rolls-Royce with the caption: "[T]hank you lord for the many blessings in my life" followed by some praying-hands emojis and "continue to shame those waiting for me to be shamed."
Well, those waiting to shame Ramon Abbas need not wait any longer. Abbas, who goes by "Hushpuppi," has long flaunted his wealth to his 2.5 million Instagram followers. Helicopters, Gucci, Fendi and fancy cars — it's all part of his social-media persona.
Apparently, this kind of stuff resonates".
But, "Hushpuppi" is now facing a rude reality because he has been arrested and "Investigators reportedly seized during its arrest of Abbas and 11 others some $41 million along with 13 luxury cars worth almost $7 million. The investigation reportedly uncovered the email addresses of nearly 2 million possible victims."
SOURCE: Source: https://www.msn.com/en-us/finance/compa … r-BB16GVkl
The other individual is Ms. Carlean Hanson, the Jamaican mother of five who is having a very, very, rough life living in a 20-foot container with one of her five children (the other children live with other people). Here is Ms. Hanson: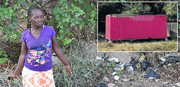 Ms. Hanson describes her very challenging life as follows:
"When mi hear that mi walk look piece a land, because mi have five kids and dem not living anywhere and dem need somewhere to live. We was stopping with somebody long time and the person said it cannot work anymore… So right now mi have one living with mi inside there and the rest living with other people for the time being," said the woman, who was seated on an old tyre while hovering over laundry.
"Right now we need a piece of land. We nuh deh pon nothing. We need somewhere to live. We need a piece a land and a house and some food. So that's what mi trying to look about. It kind of [hassling] because people from all 'bout coming to tell us we cannot live here and it don't look good, but nobody is helping," she added.
SOURCE: https://www.stabroeknews.com/2020/07/13 … -for-help/
LIFE LESSON?
Mr. Abbas' and Ms. Hanson's lives provide sharp contrasts. Yet, there is one similarity: the number 20! While Ms. Hanson may be forced to live in a 20-foot container with all its trials, Mr. Abbas, at his trial, faces 20 years if convicted.
Life paths can be so contrasting. Thankfully there are positive lessons to be learned from both Mr. Abbas and Ms. Hanson.