We lived in Fairfax Virginia: the heart of suburbia. By boys were 11 when we moved there, and that first summer I used a pile of wood I found under house and built a killer treehouse, if I say so myself. It used 3 adjacent trees, and when it was finished it had floor, roof, walls, carpet, rope ladder - and an extension cord from the kitchen. They loved that treehouse, it was the crew hut for their many friends, they'd even sleep in it - in the snow!!
One day, their friend Jason fell out of the treehouse, and broke his wrist. Didn't feel a thing, walked into the kitchen with the others agog behind him, and rotated his wrist and nearly made my wife pass out!! As usual when shit happens, I was away on a trip, phew. No panic, the ambulance took him away and he came back a couple hours later, smiling and showing off his cast. We knew his folks, who were nonplussed: they're kids, shit happens. No problem.
Three days later he comes around, looking sheepish. Problem. "Um, sorry, but ... I'm suing you! Well I'm not, my insurance is, on behalf of ... Jason. Sorry!"
No problem, have your girl call my girl! This was an insurance spat, nothing to do with us. Or so we thought. Then his insurance sent us the statements - oh god! We read it and said, it was nothing of the kind! In their version, poor innocent Jason got thrown out of the treehouse by my two thuggish sons, and their equally thuggish friends! Did Jason sign a liability waiver, before being allowed into this "dangerous contraption"? Are you crazy? It's a friggin' tree house, caveat emptor! Jason's dad was now more than a bit sheepish.
Eventually, over beers and a BBQ, all of us wrote a joint statement, and gave it to all of our grabbalicious lawyers and their even more grabbalicious insurance company clients. You could almost hear them bitching to themselves: Damn! No big payday.
Slink off, scum!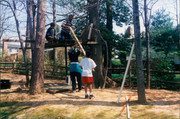 Last edited by New Historian (Sep 23, 2020 7:03 pm)