Just watching one of the latest Top Gears, and they were in "Dad's cars", well My old man did his driving before I was around, so I have to settle for Expats old cars.
Funnily 2 out of the 3 of their Dads cars were Fords , and I instantly flipped back to what was actually the first new car I bought, and what I think is my favourate, a Ford Cortina Mk111. As cars of that era go it was reasonably quick, a little soft on the suspension maybe, but a real family car, and the gear change was as smooth as hot butter. OK, the cam shaft went fairly quickly, but after an improved oil feed, and a new camshaft it was pretty slick.
RD with his Dads car is the way to go. Much more enjoyable than the can't feel the road, high technology things we drive today.
And it made it to Grenada.... OK so my wifes ex husband wrote it off, but I did drive it in Grenada myself.
This is a 4 door and mine was a 2 door, but it's pretty similar in colour and finish.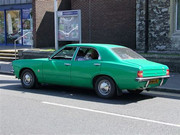 Retrospective edit. The full car photo was just a green car, my baby was Jade Green Metalic.
Last edited by Expat (Mar 26, 2021 9:04 pm)