I was 18, en route from England to Jamaica (via New York), to start yet another new life. Flying out of Heathrow Airport to New York, on 31 August, 1971, I was standing in the Immigration line, slowly shuffling forward along with everyone else. Suddenly, I noticed that the man immediately in front of me looked vaguely familiar. He had longish hair, a beaked nose and those round National Health glasses of the type worn by … John Lennon! And in front of him, Yoko! My eyes opened wider than his glasses. Lennon smiled, trying to put me at ease.
"So, I guess me disguise didn't work then."
"Sorry? I mean, what?"
"Me disguise, spotted me then, did you?"
Yoko smiled serenely, dressed in a long black gown, John in matching black suit and open-collared white shirt. As we shuffled down the line Lennon continued to chat with me, about everything and nothing.
"Yeah man, we're leaving England for good, it's just way too square over here. The Police hound us, the press hound us, the fans hate Yoko. Just can't get no peace, man." Or words to that effect. And then we went into our separate queues, wish I'd had the presence of mind to get their autographs!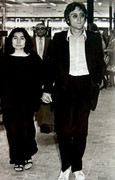 Last edited by New Historian (Nov 03, 2021 11:11 am)