It's not always a picnic, out there in the ocean.....
As the evening wore on, the wind picked up to about 20 knots, gusting 25, we could see whitecaps blowing off the tops of the waves. Gerry's stomach began to act up, but he hung on manfully. I prayed that my own stomach (and the boat!) would hold up. With each wave, water came through the forward hatch and side windows, and things below decks began to get wet. On the previous occasions when we'd sailed through the night, the weather had been kind, but this time we were heading directly upwind, in rough seas.
Gerry's seasickness got worse as the night wore on, and the poor guy was dry heaving over the side. Seasickness can be really debilitating, and eventually Gerry had to go below decks and crash out. I really appreciated Eddie on board, as without him we may have had to abort the trip. Eddie and I took one-hour shifts on the tiller. In such a wet and windy night, it was cold, bumpy and uncomfortable. You'd sleep in snatches, until jerked awake with a bang, as we crashed into another wave. The waves were steep and came crashing over the foredeck, sending heavy spray into the cockpit. Every now and then, a 'seventh son of a seventh son' would break over the whole boat, filling the cockpit and soaking the helmsman. I stared up at the mast and rigging, overawed by the strength of my little boat, as she withstood the constant pounding of tons of ocean.  Hold on, baby, hold on...
'Incoming!' yelled Eddie. I looked up, and saw an enormous, malevolent wave towering over the boat, poised to strike. I remember noticing that the top of the wave was higher than the top of the mast. I barely had time to hunker down before a ton of foaming, angry water crashed onto the decks – and me. I gripped the tiller with my right hand and hung onto the stanchion with my left, as tons of water washed over me, pinning me against the transom, unable to breathe. We had no safety harnesses, and if I got washed overboard, that would be the end of me: a watery grave.
After what seemed like an eternity, the wave finally passed over me, and I emerged coughing and spluttering. Eddie looked at me in amazement: 'Bri, where's your jacket?' 
I looked down and saw that all that was left of my yellow sou'wester (wet weather gear) were the sleeves: the wave had ripped the rest of it clean away! Out there in the Atlantic, with big waves, constant spray and 25 knot winds, it was damned cold. I had to find some protection, so I cut holes in the bottom of two garbage bags to make an improvised wet weather protector.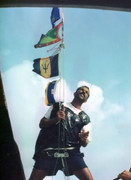 Last edited by New Historian (Mar 18, 2022 12:03 am)