Thanks be to God for the friends he has given me.
I have lived a life beyond my wildest dreams because of the people he has chosen to put in my life.
This next little chapter is 35 years in the making and well worth the wait.
Nobody in Grenada has to meet the mad man that I once was.
God has changed me from Mad Brad into Beautiful Bradley Bolton.
Now it's time to PARTY !!!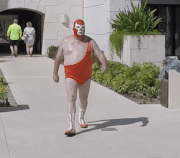 Last edited by Beautiful Bradly Bolton (Jul 31, 2018 5:54 pm)