On Friday evening, 20th November, 1970, we all sat in the living room, to watch the Miss World pageant. It was being held at the Royal Albert Hall in London, and was one of those annual extravangas that you watched, not because you wanted to, just for the sake of it. Of particular interest, for the first time ever, Grenada had sent a contestant, Jennifer Hosten. She was very pretty, but decidedly dark (i.e. not a snowball's chance in hell). Host Bob Hope expertly gagged his way through the various sections of the show, the best for us boys being the swimsuit contest, and lo and behold, our Grenadian girl continued to stay the course: Top 10, top 5, top 3 …
And then, unbelievably, she won! When Bob Hope announced: "And the winner is … Miss Grenada!" there was pandemonium, in the household! We were beside ourselves, what a ting! It was only later, that the controversy arose. And what a controversy it was, you would think that, well, a Black woman had just won Miss World. In the eyes of many, including herself, Miss Sweden should have won; an injustice compounded by the fact that the runner up to Jennifer Hosten was also Black: Miss South Africa. In yet another sick twist of apartheid, South Africa, was allowed to enter two Miss South Africas: one Black, one white.
And then there was Woman's Lib. Beauty contests were a natural target for feminist groups, along with some strange bedfellows, no pun intended, who formed an anti-Miss World coalition. It started with a bang; on the evening of the contest, a bomb exploded underneath a BBC outside broadcast van. This was subsequently blamed the Angry Brigade, a far-left fringe group who liked to play around with explosives. Although no one was injured, it resulted in heavy police presence at the event, which had everyone on edge. Then there were the demonstrators: a large, loud, hairy crowd of feminists, anarchists, anti-apartheid activists and just about anybody else out for a lark. During the event, women threw flour bombs onto the stage, and there were occasional loud heckles, until the protesters were "escorted out". A real handbag-spat!
Almost the moment Miss Grenada was announced the winner, the protests started. Some of the audience gathered in the street outside Royal Albert Hall after the contest and chanted "Swe-den, Swe-den!". Most of us saw this as the racism that it was, but our case wasn't strengthened when it transpired that Grenada's Prime Minister, the dictatorial Eric Gairy, was one of the panel of judges. Oops – whatever! The whole event has recently been turned into a movie, "Misbehaviour", starring Kiera Knightly. Can't wait to see it.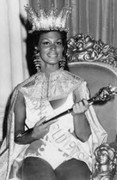 Last edited by New Historian (Jan 15, 2020 10:40 pm)