His mother asked me to write a tribute.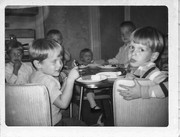 That's me on the right and my cousin Ed on the left. It was my fifth birthday, I think.   Ed is, of course, seated right next to me.  When I was growing up, he was my best friend.  Ed passed away this week after a battle with cancer.
When you are a kid, you don't realize how lucky you are to have a cousin about your own age.  I was just a year older than Ed and he and I were inseparable.  Other than the fact that we lived in different houses, we were more like brothers than cousins.
Ed was the most generous person I ever knew.  It was just part of his genes.  I have a memory of a different birthday party at about the same time as that in the photo but, in this case, it was Ed's birthday. 
Ed's wrapped gifts were laid out on the floor and he and I were on the floor among them while the grownups gathered around.  Ed immediately started dividing up the gifts; half for him to unwrap and half for me. The adults started protesting; insisting that they were Ed's gifts and he should unwrap them all.  Ed disagreed and threw a fit until I was allowed to unwrap gifts as well.
That is pretty darned uncommon among little boys but it wasn't an isolated event.  Ed was always willing to share. What's his was yours.  Years later in our twenties, Ed and I were roommates in an apartment Cedar Rapids for about a year and a half.  Of all the roommates I ever had, Ed was the only one who paid his portion of the rent and utilities days in advance of when they were due.  He didn't want to leave me on the hook to pay it all.  He cared about things like that.
Ed and I were adventurers.  Even at the age of five or six we free ranged all over our small town.  As we got older, we were down in the creek, out at Feller's pond or heading down the railroad tracks.  We called it 'going on a hike'.  That our hikes were forbidden by our harried parents didn't slow us down a bit.
Virtually all my memories of BB guns, bottle rockets, running from bulls, swiping apples from neighbors' trees and floating down the creek on hot summer days involve Ed.  Like I said, he was my best friend.
As often happens with cousins, growing older got in the way of our adventures.  Work, women, children and, well, life interfered with our time together. We chose different paths and seemed to see each other only seldom.  Our reunions, however, were never quiet or awkward.  When we got together the conversation flowed and it was like we had never been apart.  I am going to miss that.
Well, I will miss that for now but, as Christians, we can rest confidently in certain faith that our separation will only be temporary.  We will meet again and, when we do, it will be just like it always was.
So, Ed, until I see you again, safe travels.  Love you brother.