Yep, America is doing better than the rest of the World percentage wise. Stop beating yourself up.
Sorry, the graphic is a little misleading, the number at the top is not Americas cases, but the total World cases.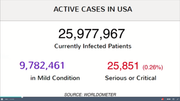 You only have a 0.26% serious or critical set of Covid Patients, where at the World in total has a 0.4%... you aint doing so bad after all.
Why the hell did you kill the economy, put thousands of people out of work, etc etc?
Last edited by Expat (Jan 28, 2021 11:02 pm)