He aiit, but don't drop out of rock school just yet kid!
Getting back to beautiful women for a minute (always never far from the front of my mind lol!), I'll readily admit my biases: Young, Gifted  - and Black! An unreconstructed child of the seventies, and a lover of that beautiful thing that nearly became extinct but thankfully now is making a comeback: The Afro! I love a woman with what we call in Jamaica a yagga-yagga head: a big wild wooly halo of blackness around her face! Kinda like this.
Okay, now back to music, I've been saying for years this is the single best, most incendiary rock performance of all time. Now the world is catching up to me. Prince is The Man.
https://www.youtube.com/watch?v=CdfMh8QgJjA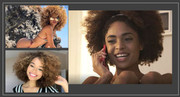 Last edited by New Historian (Jun 14, 2021 5:18 pm)