Wifees seem to be of the same mindset.
I certainly agree with not letting dogs sit on furniture, or yuck climbing up on your bed... and I can understand to a degree  dogs shedding hair could be a problem. But then, brush it more often, and sweep your floor.
BUT when you have a tiled floor, or even board with no or only a small amount of carpet what is the big deal.
It will be much better for the dog to be included in the family pack, and it will no doubt be even more protective, and more friendly to you, it would also make training the animal easier... something Grenadians seem to do little of as they are mostly strays with a place they know they can eat, and sleep if they are not touring the neighbourhood.
Something all these so called owned dogs do, which means they are not protecting anything, unless they happen by coincidence to be around at the time.
I can't imagine why cutesy little Sally had you with your back against the wall with your knees knocking, she's only trying to be friends.... LoL.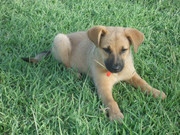 Last edited by Expat (Jun 05, 2018 3:40 pm)